SpigotMC - High Performance Minecraft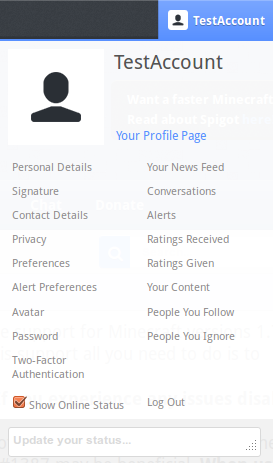 I'd like to draw your attention to two things which we have added to the forums recently. One of these is two factor authentication with Google Authenticator, the other is premium resources.
For some users here, their Spigot account is quite a valuable thing as it is used for offering goods & services, releasing plugins used by thousands of users, and representing their server. We don't want to skimp on the security of these accounts, and as such we now have the option for all accounts to enable two factor authentication. This means that you will require a code from your mobile device each time you log in.
Enabling Google Authenticator (open)
Enabling Google Authenticator (close)

From your account menu, click the two factor authentication button:

Ensure that the use two factor authentication button is ticked, then save and click add new key:


Enter a name for your device, and follow the instructions listed to enable two factor authentication:...
Some exciting news this month, for the last few weeks we have been working hand in hand with Facebook™ to arrange an acquisition deal.

We started Spigot with the mission of creating a bleeding edge, optimized version of the Minecraft Server, to allow everyone to experience the joy of running a Minecraft Server without having unrealistically high end hardware. When Facebook first approached us about partnering, we were skeptical. As we learned more about the company and its vision and spoke with Mark, the partnership not only made sense, but became the clear and obvious path to furthering Spigot's cause. Facebook was founded with the vision of making the world a more connected place. Minecraft is a medium that allows us to share experiences with others in ways that were never before possible.

Facebook is run in an open way that's aligned with Spigot's culture. Over the last decade, Mark and Facebook have been champions of open software and hardware, pushing the envelope of innovation...
Good afternoon Spigot Community,
Its been nearly a month since we last caught up! I'd like to take this opportunity to update you on a few things that have been happening within the community lately. As I'm sure you have all noticed by now, we are running the latest version of XenForo, featuring a shiny new skin by @
Audentio
. I'd like to take this time to thank all of our wonderful supporters who donated to make this theme possible! I am sure it will serve us well into the future and continue to be our own special splash of uniqueness. If you do encounter any issues with it, please do let us know in the feedback section. The forums as a whole have also continued to grow immensely these past few weeks, with a large increase in both active users and content generated. I'd especially like to thank the developers who have taken the time to upload and maintain their resources in the resources section, it is great to see a swathe of Bungee, Bukkit and Spigot plugins up...
Tomorrow we will be upgrading the forums to XenForo version 1.2 as well as implementing our new forum theme and ensuring that all our plugins and features are up to date. Assuming no last minute issues we are planning to perform this upgrade in the timeslot mentioned below.

Start Times:
UTC+11 (AEDT, Melbourne): Monday, 20 January 2014 at 4:00:00 PM
UTC+0 (UTC, London): Monday, 20 January 2014 at 5:00:00 AM
UTC-5 (EST, New York): Midnight between Sunday, 19 January 2014 and Monday, 20 January 2014
UTC-8 (PST, Los Angeles): Sunday, 19 January 2014 at 9:00:00 PM

Maximum Duration: 4 hours

Estimated Impact:
1 hour full outage - forums will not be accessible during this time
3 hours sporadic outage - forums may be slightly broken or not load for some users during this time.
Following days - there may be some bugs present, please report this to the feedback section and we will look into them ASAP.

Thanks for your support, and it will be great to finally get our brand new custom...