Spigot and BungeeCord have both been updated to support Minecraft versions 1.7 through 1.8. You may find their respective jars and build numbers on the Jenkins download pages.
Please note that these builds are brand new and as such there may be bugs. When reporting bugs, please sure to do so to the appropriate places, ensure that you are on the latest builds, and ensure that versions of all softwares have been included.
Thanks, ~ Spigot Team
SpigotMC - High Performance Minecraft
It's been a while since anything new has graced the front page, so I thought we'd take this opportunity to liven it up and briefly discuss a few points.

RFC - Build Naming
Thanks to all those who participated in our previous discussion about build naming and distribution. We have collated all these comments and will be using them in the near future to help design and build our new distribution site. The first phase of actually building this site has been more or less completed by our designers, and we will be eager to start showing off the basic design to our donors once we receive it.

Wiki Team
Thanks to all of the wiki team who have been working hard on keeping the documentation up to date as well as adding new content. The addition of templates and other design tweaks have made a great improvement to accessibility and appearance - keep up the good work guys! Even if you are not an official wiki team member, you are still welcome to contribute and we encourage you to...
Edit: Several candidates have been selected and are hard at work with their new role. Thanks to all those that applied and remember that the wiki is still free to edit.
------------------------------------------------------------------------------------------------------
Hi all!
We're currently looking for a small team of helpers to join the wiki team and assist us with overhauling the
SpigotMC Wiki.
Both the Spigot and BungeeCord project have grown tremendously in terms of features since the wiki was first written and thus with this is the need for better documentation that is both highly accurate and up to date.
The ideal candidates for the position must have very good English, a professional attitude, attention to detail as well as sound knowledge of the associated projects.
As a member of the wiki team you will be expected to contribute on a regular basis, both maintaining existing articles and creating new ones, as well as...
Edit:
The upgrade has been completed, there may be a few issues which we haven't seen yet, please reply to this thread if you experience any.
Known issues:
------------
In ~two days time we will be upgrading the forums to XenForo 1.3.2 along with our addons and custom style. Assuming no last minute issues we are planning to perform this upgrade in the timeslot mentioned below.
AEST (+11): Sunday, June 8, 2014 at 3:00:00 PM
UTC: Sunday, June 8, 2014 at 5:00:00 AM
EDT (-4): Sunday, June 8, 2014 at 1:00:00 AM
PDT (-7): Saturday, June 7, 2014 at 10:00:00 PM
It is estimated the initial downtime will be...
Hey guys,

Hope all is well - activity has been a bit sparse as of late due to the usual mid term lull and impending / in progress final exams (good luck to all of those involved). I thought I'd spice up the front page by bringing forth the following question to all within our community:

How best can we identify versions of Spigot, BungeeCord and potentially other projects?

In the near future we plan on completely revamping the way we distribute our projects (goodbye Jenkins, welcome super awesome easy-to-use and attractive custom site!). This little mini series of posts will focus on gaining input from the community with regards to how things should operate.

Naturally the most important thing about a download site is the downloads themselves, which begs the question, how can they be uniquely named and identified? Jenkins uses an ever increasing (monotonic) build number system. This is good as it gives an indication of the relative freshness of the build and allows...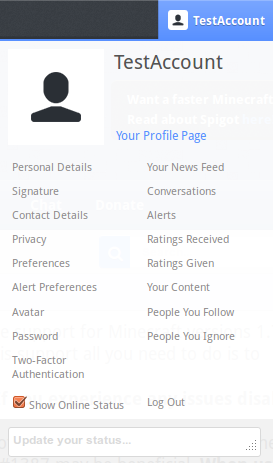 I'd like to draw your attention to two things which we have added to the forums recently. One of these is two factor authentication with Google Authenticator, the other is premium resources.
For some users here, their Spigot account is quite a valuable thing as it is used for offering goods & services, releasing plugins used by thousands of users, and representing their server. We don't want to skimp on the security of these accounts, and as such we now have the option for all accounts to enable two factor authentication. This means that you will require a code from your mobile device each time you log in.
From your account menu, click the two factor authentication button:
Ensure that the use two factor authentication button is ticked, then save and click add new key: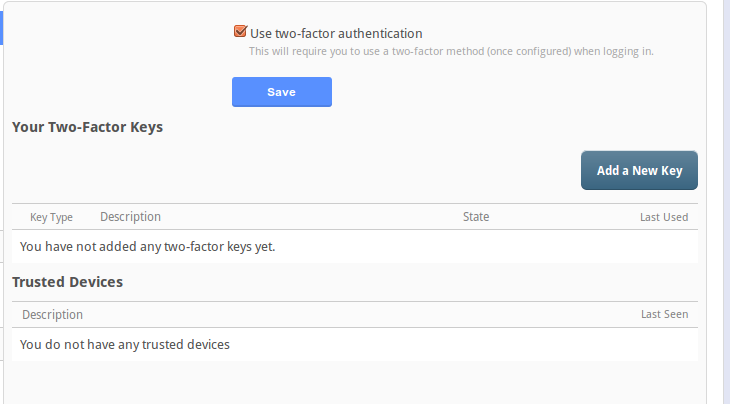 Enter a name for your device, and follow the instructions listed to enable two factor authentication:...